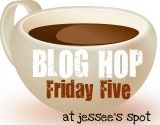 Came across this blog hop, and maybe it's cos I'm on mid-term with time on my hands, or maybe I'm looking for a way to commit to regular posts.
Anyway, Jessee suggests a wrap-up of the week as one post, so I will go with that.
It's been a quiet week. Normally, my mid-term is for catching up with friends, housework and odd jobs. Because of having been sick, I decided to keep things quiet, and didn't make any arrangements. I did cleaning and some organisation, some walking and yoga, but nothing like the usual "tearing around".
And my body is thanking me for that.
This is a lovely soup I had on Monday in town in
Avoca
(oooh, one of my favourite shops, great food, fab clothes) just look at that lovely multiseed bread
and I haven't quite figured out the picture below, is it one person or more?
Each of the figures moved parts of themselves at different times, but there's no way it was 5 people!
Hope to see you over at the Friday Five Bloghop!