Welcome March! You came just in the nick of time, when I was fed up of this winter, and needed the promise of new growth!
Apparently March is Irish-American Heritage Month, so happy IAHM to you all!
I want to share a wonderful Facebook page with you;
http://www.facebook.com/irelandandpegscottage
for anyone interested in photos of Ireland, they post the most wonderful photos, like this one
"The abandoned village of Port is an eerie place, hidden away from the world and almost off the map. It's a 'famine village' which would once have been a thriving fishing port, spectacular in its isolation and beauty. There are fantastic views of the mountains and out over the Atlantic from here. Sheep are the only things you'll see now in the fields of peat that dominate the landscape." (from http://www.facebook.com/irelandandpegscottage)
It's been an uneventful week here, work to home, work next day, that kind of thing.
I'm linking with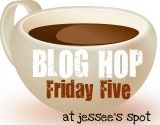 today, and this is my 5 minute post!
Just back from visiting Jessee, and her post reminded me that we had
one
interesting event at school. One of the girls wasn't feeling well, and
lucky for me
naturally I directed her to the office, where the secretary would look after her. No sooner had I exited that office than she threw up, projectile, all over the place! halleluah that I wasn't there, even the thoughts of it makes me nauseous!